| | |
| --- | --- |
| Article number: | DD28-102-06145011 |
| Availability: | In stock |

BUTTSTOCK, PISTOL GRIP, & VERTICAL FOREGRIP COMBO

BUTTSTOCK
The Daniel Defense adjustable buttstock is constructed of a proprietary blend of glass infused polymers and finished off with soft touch rubber overmolding in strategic points. The new buttstock is precision formed for mil-spec receiver extensions to have very little forward or lateral play that is so common in many other buttstocks. This eliminates the need for a tensioning device or friction lock. All of this results in a durable buttstock that will give the shooter a comfortable and repeatable cheek weld and unprecedented control of the firearm. The buttstock can be run with one of two included buttpads or without any buttpad at all to custom fit the rifle to whatever gear the operator must wear. The buttpads come in two sizes: a thicker convex shape (0.8"), and a thinner concave shape (0.5"); designed to keep from snagging when shouldering the rifle. Limited rotation QD swivel attachment points are integrated on both sides of the buttstock for ambidextrous sling connection.

WEIGHTS AND DIMENSIONS
* 7 Inches Long
* 5.5 Inches Tall
* 1.75 Inches Thick
* Weight: 0.50 lb
* For Mil-Spec receiver extension tubes

PISTOL GRIP
The new Daniel Defense pistol grip is an improvement to the old standby A2. We designed our grip with ergonomics and controllability in mind. Our grip shares the angle of the classic 1911 pistol for the most natural hand position and comfortable feel. This pistol grip incorporates an oversized trigger guard covering the gap between grip and lower receiver which can wear on the shooters hand and easily accommodates for gloves. Installation is simplified by the fact the integral trigger guard doesn't require a roll pin so there is a reduced chance of damaging the lower receiver. A soft touch overmolding section enhances grip, wet or dry.

WEIGHTS AND DIMENSIONS
* 4.25 Inches Tall
* 2 Inches Wide
* 1.38 Inches Thick
* Weight: 0.20 lb
*Screw and Washer included with package.

VERTICAL GRIP
Updated in 2014, the improved vertical grip now includes soft touch rubber overmolding for enhanced grip, wet or dry. Inside the grip is a Dual O-Ring, water tight storage compartment capable of storing small parts. This vert grip is extremely lightweight and utilizes a simple yet durable mounting method for 1913 picatinny rail systems. *Not Compatible with KeyMod or M-Lok rail systems*

WEIGHTS AND DIMENSIONS
* 4.5 Inches Tall
* 2 Inches Wide
* 1.38 Inches Thick
* Weight: 0.15 lb



Products displayed are in-stock, in store and ready to ship.
If you don't find what your looking for check our Off-Site Warehouse.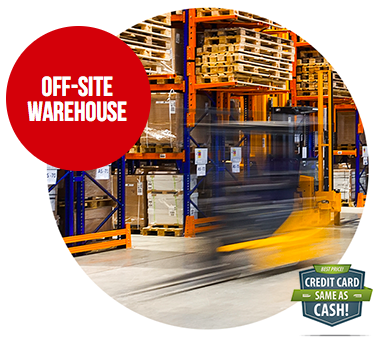 Thousands of firearm and accessories available
Credit card same as cash
Lifetime warranty available
No transfer fees
Heavily discounted range time available with firearm purchase
Check your state and local laws for any regulations that may apply. By purchasing a firearm from shop.openrangesports.com, you agree that you are legally allowed to do so. Per Federal law, you must be 21 years or older to purchase a handgun or firearm receivers/frames & 18 years or older to purchase long guns.