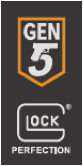 Glock Safe Action Pistol

G17 gen 5

The G17 Gen5 and G19 Gen5 pistols were inspired by the Glock M pistols used by the FBI and include many features the Glock community has been asking for.  There are over 20 design changes which differentiate our Gen5 pistols from their Gen4 predecessors, including a flared mag-well, a new nDLC finish, the Glock Marksman Barrel, ambidextrous slide stop levers, and a grip which has no finger grooves.  Tech Specs
EXCLUSIVE OPENRANGE OPTIONS FOR THIS PRODUCT:





LIFETIME WARRANTY: We will warranty to your firearm for the lifetime for any defects covered by the manufactures normal warranty. Simply return it to us for repair, we will take care of the rest!
30 DAY SHOOT & RETURN POLICY: The Openrange Shoot & Return program... You shot it, but the handgun just doesn't fit - Return it – and we will give you 100% credit. Terms
FREE RANGE TIME: Every firearm purchased at open range comes with an hour of free range time! Your new firearm deserves it, come in and we'll hook you up!
NO TRANSFER OR SHIPPING FEES: Want to save even more? Select "Pick-up at Openrange" option during the final stages of check out and you'll save on shipping and transfer fees!
CREDIT CARD SAME AS CASH: No bait and switch at Openrange  – The price we show is good for cash or credit. So you save 3% every time! 

Features: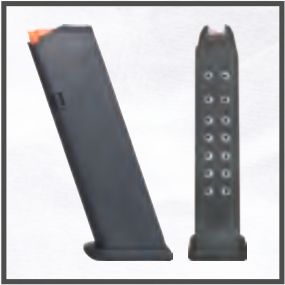 Glock Gen5 Magazine
The new Glock Gen5 magazine comes with an orange follower and a floor plate which is extended at the front for faster magazine change.
PLUS: The Glock Gen5 models also feature some of the proven Gen4 advantages, such as:

Modular backstrap and beavertail system Every Glock Gen4 and Gen5 model comes with backstraps in two sizes each one with or without beaver tail. The multiple backstrap fra- me allows the users to change the circumference of the grip to fit their individual hand size.
Enlarged reversible magazine catch The magazine catch of the Gen4 and Gen5 frames is reversible and enlarged towards the rear of the pistol. The reversible magazine catch is more user friendly to the shooter's reach and allows them to switch the catch to the left or right side of the pistol.

RTF Rough textured frame surface The Gen4 and Gen5 have a rough textured frame (Gen4 RTF) surface designed to en- hance grip traction, without being too aggres- sive. It is present on the frame as well as on the interchangeable backstraps.
TECHNOLOGY OF THE FUTURE
nDLC Finish
nDLC finish for barrel and slide Glock's nDLC provides tougher, more durable protection than previously used finish. The nDLC finish is exclusive to the Glock manufacturing pro- cess. The nDLC finish increases protection against corrosion and scratching and improves the ability of the pistol to function in degreased or adverse conditions. The nDLC finish will be exclusive to Gen5 pistols at this time.
Ambidextrous Slide Stop Lever
The ambidextrous slide stop lever makes it easier for gun owners to quickly, safely and comfortably manipulate the slide whether they are left-handed or right-handed.
Speed
 Flared mag-well The larger opening of the flared mag-well makes it easier to funnel the magazine into the mag-well, particularly in high-stress situations where fractions of seconds matter.
Versatility
 Removal of the finger grooves on the grip Removing the finger grooves improves the ergonomics of the grip. The absence of finger grooves improves the ability of the pistol to deliver a consistently comfortable grip to a wider range of consumers, regardless of their finger size and whether or not gloves are worn.
Accuracy
 Glock Marksman Barrel The Glock Marksman Barrel (GMB) features new barrel rifling which delivers improved accuracy.


Products displayed are in-stock, in store and ready to ship.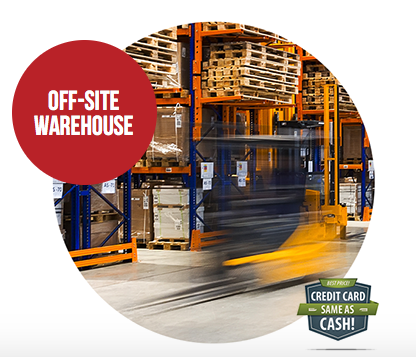 If you don't find what your looking for check our Off-Site Warehouse 
Thousands of firearm and accessories available
Credit card same as cash
Lifetime warranty available
No transfer fees
Heavily discounted range time available with firearm purchase
Check your state and local laws for any regulations that may apply. By purchasing a firearm from shop.openrangesports.com, you agree that you are legally allowed to do so. Per Federal law, you must be 21 years or older to purchase a handgun or firearm receivers/frames & 18 years or older to purchase long guns.
Terms & Conditions Criteria for 100% Shoot and Return Credit:
• The firearm must have been purchased less than 30 days ago.
• The firearm must still be in as-new condition with no customer modifications, all documents and original box with original contents.
• Only one trade-back per firearm purchased.
• Openrange reserves the right to refuse the "Shoot & Return" credit on any 'Special Order' firearm which doesn't fit out normal inventory.
• Excludes stripped lowers.
• Purchase of the 30-Day Shoot and Return coverage must be completed at the time of firearm purchase